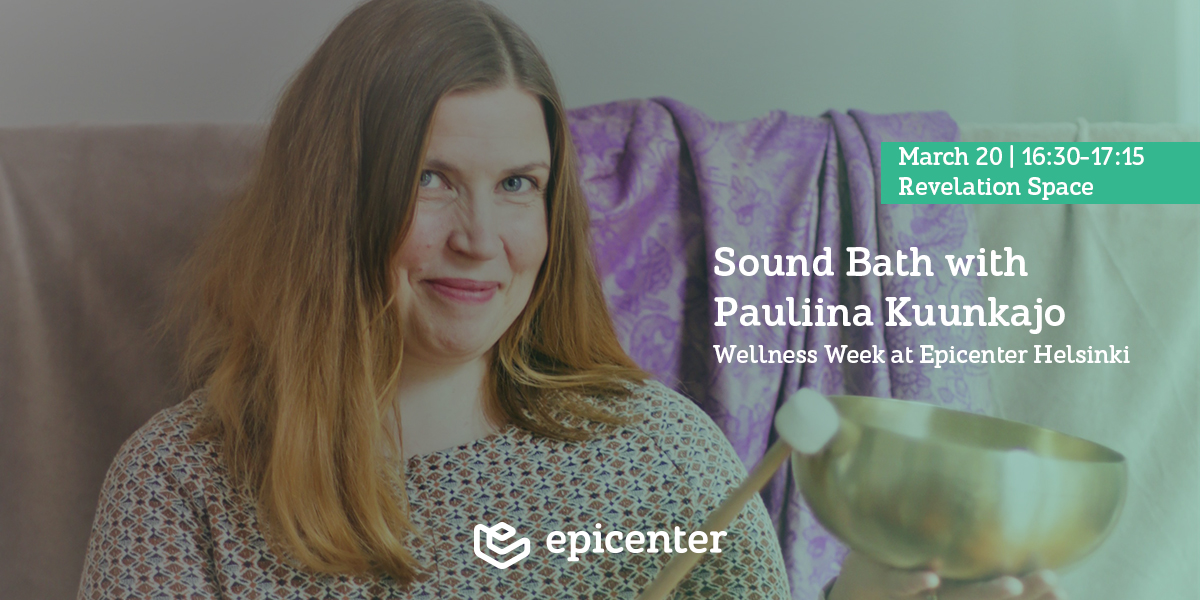 Wellness Week - Sound Bath with Pauliina Kuunkajo
Last signup date 2019-03-20
Lie down, relax and let this soothing experience let your stress melt away. Join Pauliina Kuunajo for a beautiful and rejuvenating Sound Bath on the second floor of Epicenter, in the Revelation Space. Wear comfortable clothing and arrive in time. Please secure your spot by signing up as space is limited. This event is free of charge for all our Epicenter members and you have the chance to schedule private sound massage sessions (one person at a time) with Pauliina during the Wellness week for the cost of 20€/20min, please contact pauliina.kuunkajo@evl.fi to set up the session. This experience is one not to miss and it supports health, prevents and eases stress and facilitates you in broadening your perception. Come with an open mind!
About Pauliina Kuunkajo
Pauliina has studied sound massage and sound bath at Medi-Sound and is an avid health enthusiast with a focus on wellbeing at the work place. She holds an International Training Certificate with a license from the Peter HESS institute and has been working with sound for years.
About Wellness Week
If you're feeling tired, stressed, over worked, inefficient or perhaps you simply need a bit of inspiration and motivation, this is for you! Imagine a week where the focus is on wellbeing, self care, nutrition, recovery and sleep. This is important as wellness is very much connected to the performance of your business. Think of it as an investment in your productivity! And the best part; all of this without paying a dime! Sound too good to be true? Well, this time it's not.
Each day we will have activities related to wellness for you to take part in. We have an interesting set of speakers, authors and workshops to learn from. This week will entail lectures on recovery, yoga, a sound bath, self care, sleep and much much more.
Hope you will join us!
Please note that this event will be in English.
Program:
MONDAY 18TH:  Lunch date with Jussi Patjas and the lovely team from Energiavalmennus. @Epicenter Lounge 12-1PM (in Finnish)
TUESDAY 19TH: Kanerva Ahonala. Benefits of a balanced diet (nutrition). @Epicenter Lounge 4PM-5.30PM (In Finnish)
WEDNESDAY 20TH: Yoga with Eva Estlander. @Epicenter Lounge 10AM-11AM (in English)
WEDNESDAY 20TH: Sound Healing with Pauliina Kuunkajo. @Revelation Space 4.30-5.15 
THURSDAY 21ST: After Work with Timo Kaukinen: How to Burn Out and Recover. 4.30-5.30PM (In English) 
FRIDAY 22ND: Talk with Jenni Demus, Wellness Coach and Author: Wind Down From Work.  4.30-6PM (In English)