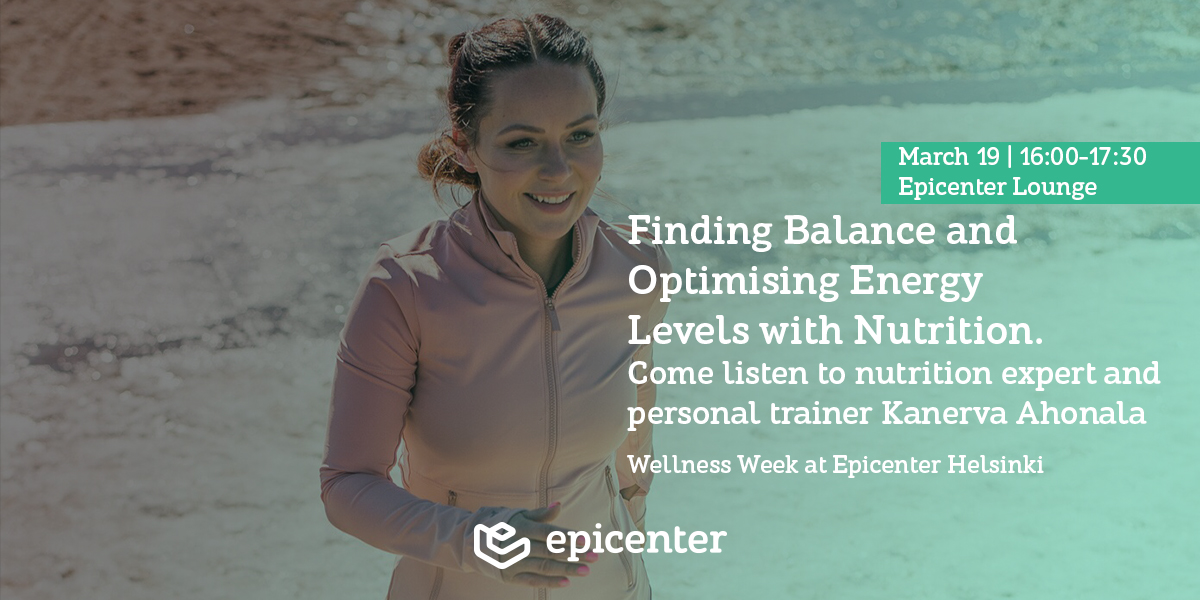 Wellness Week - Finding Balance and Optimising Energy Levels with Nutrition
Last signup date 2019-03-19
Meet us at the Epicenter Lounge on Tuesday March 19th at 4pm and listen to nutrition expert and personal trainer Kanerva Ahonala.
Learn about meal planning and its importance when it comes to optimising efficiency and energy levels. As it's wellness week, we'll be serving some super healthy and yummy snacks such as beetroot hummus, ginger shots and more from our amazing in-house restaurant, Xavier. 
Make sure to sign up here. See you there!
About Wellness Week
If you're feeling tired, stressed, over worked, inefficient or perhaps you simply need a bit of inspiration and motivation, this is for you! Imagine a week where the focus is on wellbeing, self care, nutrition, recovery and sleep. This is important as wellness is very much connected to the performance of your business. Think of it as an investment in your productivity! And the best part; all of this without paying a dime! Sound too good to be true? Well, this time it's not.
Each day we will have activities related to wellness for you to take part in. We have an interesting set of speakers, authors and workshops to learn from. This week will entail lectures on recovery, yoga, a sound bath, self care, sleep and much much more.
Hope you will join us!
Program:
MONDAY 18TH:  Lunch date with Jussi Patjas from Univire, followed by the lovely team from Energiavalmennus. @Epicenter Lounge 12-1PM (in Finnish)
TUESDAY 19TH: Kanerva Ahonala. Benefits of a balanced diet (nutrition). @Epicenter Lounge 4PM-5.30PM (In Finnish)
WEDNESDAY 20TH: Yoga with Eva Estlander. @Epicenter Lounge 10AM-11AM (in English)
WEDNESDAY 20TH: Sound Healing with Pauliina Kuunkajo. @Revelation Space 4.30-5.15 
THURSDAY 21ST: After Work with Timo Kaukinen: How to Burn Out and Recover. 4.30-5.30PM (In English) 
FRIDAY 22ND: Talk with Jenni Demus, Wellness Coach and Author: Wind Down From Work.  4.30-6PM (In English)